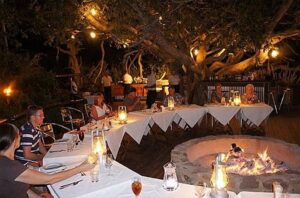 Warmest greeting to you all again.
We hope that you have had a lovely February and that you were all spoilt with lots of love on Valentines day!
We have been extremely busy, with lots of lovely return guests all round! We hosted lots of families with kids of all ages, a huge family reunion with two birthdays to celebrate at the same time, a mini teambuilding conference in the bush as well as a few romantic getaways. We also had our annual five star grading in the Superior category of the AA Quality Assured
Accommodation Programme, which we passed with flying colours.
Our waterhole has been a hype of activity with 11 lions chasing a wildebeest around the boma deck one afternoon, 20 wild dogs spending a couple of afternoons in the shade to rest before the evening hunting excursions, 50 elephant joining us for boma dinner, to name but a few.
The Ficus Thoningii – our famous boma tree, is full in fruit and hundreds of birds, monkeys and baboons are in there every day, busy eating as many tiny sweet figs as they can stuff into their beaks and mouths. Not a safe place to be these days before dark as anything can hit you on the head at any given moment…..
The real excitement, however, always happens on the two daily game drives out there in the reserve with our highly passionate game rangers.
Gavin will tell you all about it!
February has come and gone, and has been one of the best months for game viewing at Tuningi. We have been blessed with a plethora of great leopard sightings, and this continues to get better and better in Madikwe.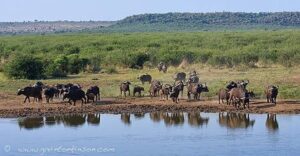 The younger leopards are building their faith in us rangers, and we are able to get closer and closer to them, and enjoy their majestic presence. The Phodile female and her youngster around the big dam in the north are making up the bulk of our sightings , and the cub gave us some great opportunities to capture her in the early morning light in a dead leadwood tree.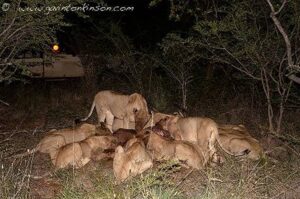 We have not had too much rain in the last month, and it looks as if the dry cycle is upon us, and the bush is slowly but surely losing its vibrance and making way for what seems to be a long winter period. This however will make for some great game viewing at the larger waterholes, and you can expect to see at least 4 of the big 5 all coming in to quench their thirsts. Buffalo sightings are of impressive proportions at the moment, as the stampeding herds all rush to the waters edge to get to the clean water first.
We also had manic lion sightings this month with the Tchaba pride making several kills, and one in particular comes to mind one evening on the way back to the lodge, when we heard a huge commotion in the bushes to our left. As we turned off the vehicle to hear where the sounds were emanating from, the spotlight caught the all too familiar glint of the super predator's eyes in the long grass, and their they were just taking the last breath out of a young male kudu !
The sight and sounds of 11 hungry lions all fighting for best position on the carcass was impressive at close range, something that you want to experience when you come and visit us here at Tuningi. The territorial males Kgala and Etali have also been busy keeping both their prides away from danger of other males who are constantly trying to enter their territory, and therefore have not been seen too often with the prides. However they have stunned us with their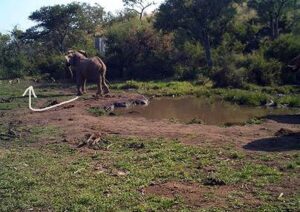 awesome power by bringing down a buffalo, and providing awesome photo opportunities.
The wild dogs are also doing extremely well, and were seen at our waterhole on various occasions, sometimes spending the whole day at our waterhole, and at times, their rest being disturbed by the odd elephant coming in for a drink.
The bigger of the 2 packs (20 dogs) are creating havoc in the park. They have to kill at least once every day,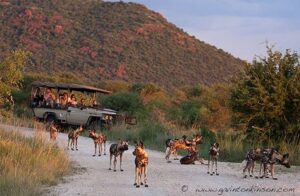 as their need for fresh meat is growing daily with the pups steadily moving in to adulthood. The alpha females in both packs will be coming in to oestrus soon, and the alpha male is showing some interest in this annual event. Hopefully there will be new pups to view in June or July!
Some very good news, is that it is getting closer to the date of the arrival of 8 new cheetahs, which will be introduced to the park hopefully by the end of april, and then the already amazing wildlife sightings in Madikwe
will be pushed to an even higher level !!
So to end off this month's wildlife report, imagine this………
Special sunrise to the front……and lions roaring to the left !! IS ALL THIS MAKING YOUR MOUTH WATER FOR A SAFARI AT TUNINGI LODGE…..thought so.
BOOK NOW !
Bush Regards,
Gavin
P.S – My new book is available online on my website.
www.gavintonkinson.com.
Don't miss it !!