Hallo once again to all of you!
Winter is finally upon us! The only thing that is hiding this fact, is, that the bush is still completely green and lush, exactly as it has been the previous months. It seems as if we have skipped autumn this year as there is not a single golden or orange colored leaf around! Although the temperature has fallen significantly, it has continued raining right through the month of April as if it was the most common occurrence. The leaves will only start coloring, once the rain stops. After that they will fall slowly to the ground, thinning out the bush for even better game viewing than we are used to already.
Even though there are still lots to eat out there at the moment, the migratory birds have stuck to the program and felt the need to leave us for their usual greener pastures. Every April we stand in awe as the bee-eaters, swallows, rollers and some eagles all gather their guts, and fly away, often for hundreds of kilometers.
| | | |
| --- | --- | --- |
| | | |
| European Bee-eater | | European Roller |
These bird species are dependent on insects, flowers, fruit and seeds for sustenance. Food-sources like these are invariably at their highest concentrations in warmer areas, allowing birds that migrate to have a better chance of survival, particularly if they have to breed – possibly needing as much as 30% more energy then, than usual
Migration also has the spin-off of making life easier for birds that stay behind, resulting in less competition for scarce resources. Some species take a leisurely trip, stopping frequently at places of interest along the way. They take up to two months to get from South Africa to Europe. Others do not mess around, covering the 13 000 km in less than three weeks. Route selection is based upon food requirements, resting places, landmasses and prevailing winds. It still remains to be known how the birds know where to go, though. It is just one more of Mother Nature's wonderful secrets.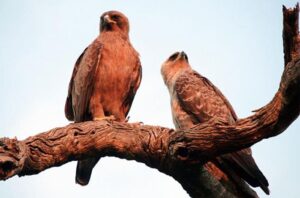 Wahlberg's Eagle
The rest of the bush is still teeming with wild life, offering us many thrilling opportunities to spot rare and wonderful animals.
The Parks Board has just finished a game count in the park which showed us all that Madikwe as a Nature Reserve, is truly a great success story.
Just one example is the buffalo. The park started out in 1995 with only one hundred buffalo around. Now, 15 years later, we have counted more than 500. This is truly wonderful, as they are all 'disease free' fat and healthy, where other parks are struggling with keeping their numbers up, especially because of Tuberculosis which has become a huge problem in places like Kruger National Park.
Amongst lots of other exiting game sightings, Grant and his guests had the privilege of watching some lions fight over food one day, and I asked him to tell you all about it.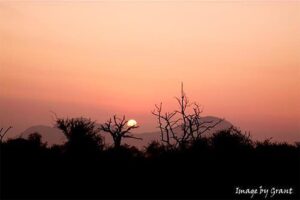 " As we drove out of the lodge we could barely see the Ensil bergs, they were covered in mist. The mist normally makes good photography but I waited for the sun to pop out next to Tswene Tswene before I took this sunrise shot. I dropped a little bit of the contrast and pushed up the blacks.
We could really feel the difference in temp. Winter is on our doorstep. Driving slowly along I got the update that there were a pride of lions not too far from where we were. The grass was wet so I knew they would prefer to walk in the road, so we took our time to get there. We found all the females lying in the road and the one male next to the road. This was the Tshaba, Sebabas and Tsholo male.. This pride roams the north western sector of the Park
I saw that it was only the Sebabas there and that the Tshaba was missing. After a while, we spotted her, pursuing some zebra but with no success. They all got up and moved east along the road then all of a sudden they all turned north. I could see they were on to something. Suddenly all hell broke loose. They stumbled upon the two Serety males whilst busy eating on a wilde beest. They were caught off guard and the Tsholo male used the situation to his advantage.
To our surprise he chased off both males and really climbed into one of the Sereties. His brother ducked and abandoned him. The Sereties are very inexperienced in contrast with the Tsholo male who already has quite a few fights behind his name. The sounds and everything was majestic! We felt so small while we watched this scene unfold. It happened so quickly that I was too slow with the shutter. While Tsholo chased the Sereties around, the females with one young male took advantage of the situation and started munching on the food. The big male returned and all the females made way except the young male…..BIG MISTAKE !!!
Tsholo showed his full fury and took it out on the youngster. He was already pumping with adrenalin so it was even worse for the youngster. But if he knew his place he could have avoided that hiding. We all thought the youngster would back off but he kept his ground and Tsholo allowed him to stay on the carcass. The lions were on a roll after their victory. A black backed jackal paid dearly with his life for coming too close to the feeding lions. We spent a good time with the cats while they were feeding. What a morning we had.
Cheers
Grant"
Last but not the least!
Remember to book in for the weekend of 28 May. The wonderful Johnny Clegg, a real South African icon will treat you to an unplugged musical experience around a fabulous campfire in the middle of the bush! Do not miss this opportunity!
Also please watch out for us on the 26th of May on SABC 2. Tuningi will be featuring on the Afrikaans program ' PASELLA' at 07h30.
Well, until next month when we chat again!
Have a wonderful Mother's Day and keep planning your next trip to Tuningi.
We can't wait to see you again!
Warmest regards
The T-Team
For enquiries please contact :