Greetings to all of you once again from Tuningi Safari Lodge.
It is difficult to find the correct words to describe the awesome beauty of the bush in the Madikwe Game Reserve in its present state.
Even for us, who have been living here for a couple of years, and who's wealth is already measured in gorgeous sunsets, the dense green shrubs, the colourful flowers waving at us around each corner, the brilliance and abundance of hundreds of buzzing insects and the unusual sight of overflowing water holes, renders us absolutely speechless! And to think, that we were desperately begging for rain not even three months ago. As the saying goes: 'Be careful what you wish for!' Just in the past two months we have measured much more than 200ml of hard rain bucketing down.
The most wonderful thing though is that we never had to cancel a single game drive because of bad weather and that the sightings were still out of this world, despite the denseness of the bush. The muddy roads created lots of fun for rangers and guests alike as most people love to test their 4×4 skills every time they get a chance!
We saw more cats than ever before- especially the elusive leopard…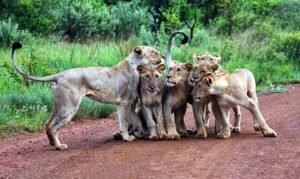 Lions were also easier to spot than normal as they were trying to avoid the long wet grass and rather chose to walk around on the dryer open roads. Our favourite lions at the moment are the Tshabalala females with their handsome, playful cubs. They are just the cutest, loving family around!
One would imagine that the rhino's would be hiding, with all the talk of rhino poaching going on, but they seem to pop out all over the place, enjoying the lovely green grass and abundance of miniature yellow flowers as a special little treat!
We were even lucky enough to be entertained by the hugely endangered black rhino one day! He was standing out in an open clearing sniffing the air as if it was the most normal thing to do! With them being browsers and not grazers like the white rhino, you only ever get to spot them in the densest parts of the park. What a treat to be able to really get a good look at the curled lip which differentiates it from its white counterpart. He actually came casually walking right up to the vehicle for an in depth investigation and then ran off with a last disgusted snort in the air, leaving all of us speechless for minutes!
Tlou dam as well as Vlei pan, which two months ago offered little more than a mud bath to the animals, are absolute hives of activity at the moment. You can find big herds of everything moving around the dams at almost any given moment, just enjoying the nice fresh water of taking a cooling bath in the terrible heat. The baby elephants, especially, cannot get enough of swimming and playing in the beautiful deep clean water at Tlou dam.
And last but not the least-
Our chefs were also having a great time experimenting with the giant edible mushrooms growing on the termite mounds after a big rain storm. These giant mushrooms are the epitome of every vegetarian meal! You can cut big fat steaks out of them and fry them in butter, garlic and cream and it will top any juicy rump steak grilled to perfection in a Michelin star restaurant!!
On that note, I wish you a wonderful month of February with lots of lovely, romantic moments around Valentine's Day! In fact, why don't you pick up the phone, make that booking and bring your partner over to Tuningi for an exciting, romantic weekend she will remember for the rest of her life???
Hope to see you all soon!
Kindest regards
Heidi and the fabulous T-team.

P.S If you can't wait a whole month to hear from us again, please add us on Face Book as your friend and follow our daily updates! You will be amazed….
For enquiries please contact :