Warmest greetings again from Tuningi Safari Lodge.
Another chilly month has come and gone….. This month I have thought it a good idea to let someone else do the talking. I want you all to read about our fabulous lodge from a guest's perspective. I would really like to thank Peter Davis for the fabulous review on his visit to Tuningi that he posted on the Travelgurus website.
I am sure that you are going to start planning your next holiday the minute you have finished reading it:
Posted under: Bush, Destinations, South Africa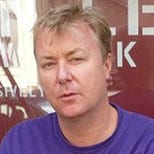 Peter Davies
We recently lived in a charming town called Simsbury in Connecticut. Our yard (as the Yanks like to call their gardens) was visited by squirrel, deer, chipmunk, fox and once, as we were about to stroll to a school bus stop, a large black bear. We drove to the bus stop that day.
Our neighbour in this rural idyll was the guy who voiced Pumbaa in the Lion King movie. Ernie Sabella is his name, and he would put on the bumbling warthog's voice and quote his well-loved lines to entertain our girls. Understandably, we cannot encounter warthogs without being reminded of our kindly ex-neighbour.
On a recent trip to Tuningi Safari Lodge, the first sightings of the creatures sparked delighted cries of "Ernie" from the girls. Then we saw a warthog impaled high in the forked branches of a marula tree …
Our guide Gavin cut the engine and we settled back in that perfect post-dawn bush silence. A wheeling pair of raucous crows buzzed the marula tree, closing in on the carcass. Suddenly, a glint of gold and coal flashed through the high grass and a muscular leopard scaled the lower reaches of the tree in an easy bound. She was halfway up the trunk before the crows fled, and the big cat dropped effortlessly back to the veld.
Thankfully, this glimpse of leopard enthralled the girls, banishing any panicky thoughts pertaining to Pumbaa's fate. It also enabled us to tick off the Big Five. Not bad for a three-day stay. We also saw shy gemsbok, black rhino, brown hyena and aardvark – everything really, apart from the elusive wild dogs, one of Madikwe's success stories.
Madikwe is a group of up market lodges studded throughout 750 malaria-free hectares of bush hugging the Botswana border. Tuningi is the most child friendly of the lodges – an easy four-hour drive from Gauteng or one hour in a small plane. Managerial duo Heidi and Gavin ensure that even though the food and lodging is of an immaculate five-star standard, there is a homeliness you don't always find at the top end of the game lodge business. This is important to us.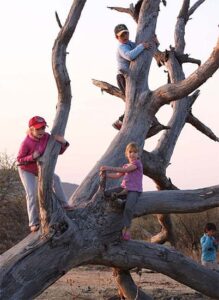 There's nothing worse than treading on eggshells at some Ferrari-safari type lodge where you are just another invoice and children are to be neither seen nor heard. During our three nights at Tuningi, we met people from England, Spain, Gauteng and Italy. The Italian mum wept gently like George Harrison's guitar when we came within prodding distance of a pride of lions that languidly surrounded the vehicle. I empathized to a degree with the mama's muffled sobs. Despite the primal thrill of being in the hub of the lion laager, and no matter what the rangers say to the contrary, I'm uncomfortably aware of how simple it would be for one of those beasts to leap into the vehicle and devour its occupants.
So often the entire bush experience depends on the guile and skill – or lack thereof – of the ranger. Some are glorified taxi drivers, who do little more than wait for sharper guides to locate game and then crash the party.
Gavin is no taxi driver. His self-published books of photographs in the lodge speak of a deep love of African wildlife. His game drives are meticulously constructed – painstakingly following tracks, testing the wind, drawing on his knowledge of every inch of the reserve. Gavin was generous with this knowledge too, which fascinated the younger bushwhackers. Did you know that the black rhino's teeth snip branches at an exact 45° angle? Or the giraffe sleeps for just 20 minutes a day? Neither did I.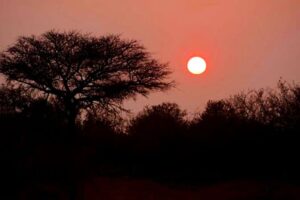 On our extensive travels in America, we often encountering a rack 'em, pack 'em and stack 'em attitude. There is something refreshingly genuine about the warmth and hospitality you get in South Africa. Usually, though, the standard of the up market bush experience is so high it can be difficult to tell lodges apart, to detect a unique selling point.
Let's consider Tuningi: Five-star cuisine? Check. After the post-game drive breakfast, a waitress appears with the lunch menu. As lunch debris is swept from the table, pencils are tapped against notepads for dinner orders.
Luxurious chalets? Check. Just 16 guests are accommodated in double-volume thatched rooms with fireplace, outside shower, outsize oval bath, bed wide enough to set sail and classy, understated Afro-chic decor. Two log fires in the main lodge. Enticing bar and rim-flow with views through to private water hole.
Boma dinner? Check. A jewel of the game lodge experience, at Tuningi these dinners are held under the vast canopy of an ancient fig tree.
Private water hole? Check. Obliging game congregate at dawn and dusk to offer gawking guests the wildlife equivalent of a pole dance. It's accessed down a winding, wooden walkway. On check-in, we were treated to a herd of 20 or so elephants cooling themselves.
Yes, Tuningi ticks all the boxes, but its overt family friendliness is what sets it apart. Children are nurtured as the next generation of bush lovers. The girls spent their final morning hand painting Tuningi T-shirts. They adorned the back with intact warthogs – a family of four trotting snout-to-tail on terra firma – not half-eaten ones in marula trees.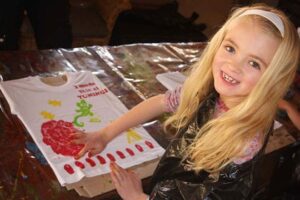 The human Pumbaa should check this place out. Ernie Sabella has never been to Africa to savour the savannah-soaked adventures of his animated alter ego. He is one of the many millions of foreigners oblivious to the singular delights this nation has to offer. We South Africans should never become blasé about the utterly unique experience that places like Tuningi offer.
We'll be drawing Ernie's attention to Tuningi shortly. – Peter Davies
Well, what more can we say????
Have a great month until we chat again and please remember to keep in touch with us through Face Book.
Kind regards!
Heidi and the incredible T-team
For enquiries please contact: reservations@madikwecollection.com