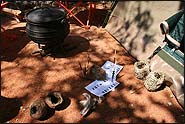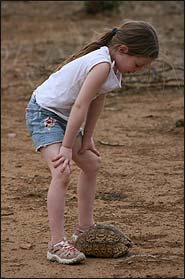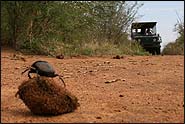 Warm greetings to you all once again from a scorching hot month in Madikwe.
We have had a wonderful, busy month at the lodge and once again feel incredibly privileged to have been in the position to meet so many fabulous people.
As usual we had a lot of children visiting us, and as you all know by now, we make it our business to educate them about Nature and all the small things bright and beautiful out there. For those , too small to sit through the long hours of a game drive, we have made a special 'play room' full of interesting things to play with. Those on game drives get very special treatment from the rangers who all adore children, stopping and giving attention to even the smallest creatures in the veld, like dung beetles, tortoises, guinea fowl and dragon flies. The little ones get to go on there own short drives to Inkwe pan and back, gathering feathers, dung, rocks and other things to use for our treasure hunts.
Come meal times, we organize special Boma barbeques for the kids and teach them to bake bread on sticks over the fire. We also have pizza making, story telling and star gazing evenings. While all this is happens, mom and dad can have a romantic dinner on their deck and really experience the romance of the African Bush.
The greatest excitement of this month was caused by the two huge lion brothers, Ditaba and Sipedi, who killed an enormous Eland bull, almost on the lodge's door step.
How privileged we were to be able to see the whole process of how Nature works. It is truly mind blowing to even imagine how much strength it must take for a lion of about 180kg, to pull down an ox-like creature, the largest African antelope, of between 700 and 800kg, even with the help of his brother of another 150 kg. Well, let me tell you, these two big cats had a feast of a life time after this great accomplishment.
The first night, after the kill, they kept dead quiet and just ate and ate until they were almost ready to explode. By the second night, they were still eating, but started roaring madly every ten or twenty minutes to let the whole of Madikwe know that no matter how full their stomachs were, they were not about to share even a tiny little morsel with anybody…. Not even the rest of their extended lion family.
By day three, the jackals, hyenas and vultures started to gather on the outskirts taking great care not to get too close to the two, by now obese, lazy kings of the bushveld. They were still guarding the rest of the, terribly smelly heap of meat from a distance, but started showing signs of moving on. At this stage, they would still give a big roar, here and there, but managed to do so without even lifting a head. They truly had had enough to eat!!!!
This is where Nature tells its story best.
With this rotting peace of meat, lying in the sun for days on end, one would expect terrible disease to spread rapidly through the area. Mother Nature, however does not allow this to happen. She promptly sends in the vacuum cleaners of the bush.
First came the jackals, known to have cast-iron stomachs, who pick at the last bits of the rotting, putrid meat. Then enter the hyenas. They have a massive scull with a prominent medial crest to anchor muscles that empower their jaws. This enables them to eat and digest bones, horns, and even teeth. They are also the only carnivores that eat skin and hides, just to disgorge the indigestible hair at a later stage.
While this is all going on, hundreds of vultures gather in the trees around the rotting carcass to wait their turn to complete the cleansing job.
For this purpose, each type of vulture has a different feature.
The Lapped faced vulture, for instance, has a very strong beak for opening up the pieces of the carcass that is still covered with hide.
The Cape vulture and White Backed vulture has an unusually long neck, enabling it to stick its head deep into the carcass and clean the bones from the inside.
The Hooded vulture on the other hand, has a fine precision beak for getting to the tiny bits and pieces still clinging to the bones right at the end of the whole process.
All of these vultures can digest even the most horrifyingly rotten meat, as they have acidic digestive systems, leaving the piece of the bush ,which only days ago, smelt like death, cleaned up and disease free.
How utterly amazing Nature is !!
Book your next holiday at Tuningi as soon as possible! You will be amazed by the pure exhilaration of it all.
Can't wait to see you, spoil you, enlighten you, befriend you……..
The T-team